GIF Spam? <3
Thursday, July 2, 2009 // 12:17 AM
arhhh. i don't know what to write,but i feel like posting =.= ya'knoe that i am not capable in writing... i myself don't know why did i even made this blog when i can't write anything interesting. well then. SO,uhh,i'll just spam around with these gifs found from LJ, soompi, plurk
*ya know,people plurk gifs,then i 'borrow' the link? >.<*
and some more source
*which i totally forgot*
=.=
firstly ,

MINHWAN + jonghun


ohmaigoodness how can he be so cute????



ohh the ALMIGHTY PINKDIVA KEY ~ CUTE x3



YAHHH!!! xD



TEUK...always adorable x3



duh Kangin,you bully...poor angel teuk >.<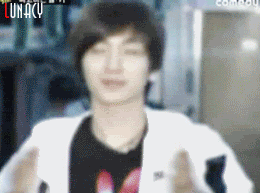 cheonsa...x3 well,the angel without wings ;3

YOU KNOW WHAT? THIS IS SO DEADLY AND I DIED O_O


awww wooyoung...why so funny x3



...



EHB...i miss 13 together :( oh well,kibum said soon,but when exactly soon is? soon next year? soon next decade? soon next century? =.=



ROFLMAO I LAUGH SO HARD

what. i found something sad. NEXT POST T.T
Labels: FT Island, gif, key, shinee, super junior