DAEMIT. HOWLEEYSHOOT.
Tuesday, June 9, 2009 // 8:22 AM
GUESS WHAT. After waiting this long for Sang Sang Plus with KSE on, I F*CKIN MISSED IT. WHAT THE HELL. it's because my dad used my lappie AND I DIDN'T DARE TO INTERRUPT HIM. coward, i am. And then when he left the lappie, all thing that left in the show is just KSE with oldies. HAH. LIKE I CARE WITH THOSE OLDIES.sheesh. and then they said, THERE WAS NOT soeul BTS. but they did talked about Kimbum X Soeun...
SOME KINDHEARTED SOUL, PLEASE KINDLY UPLOAD YOUR RECORDED FILES OF THE SHOW, AND I WOULD LOVE YOU THAN EVER IF YOU TRANSLATE IT.
omg. hiperventilates much.
ANYWAY..
Pussycatdolls
IDOL FANBOYS
SPOTTED
thanks to a plurker who plurked this pic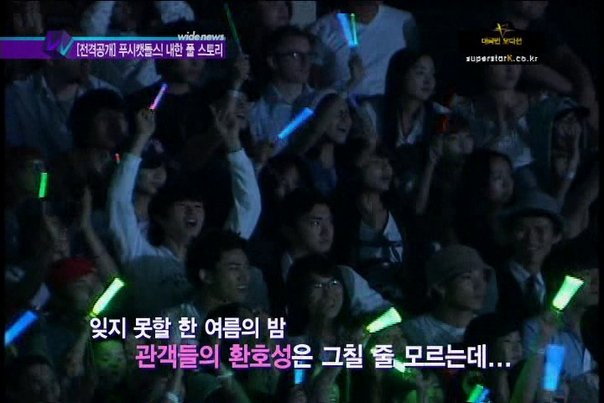 HYUK. fanboy much,eh? 8D ; Taec...i know you like it there... ; Siwon and Junsu...did he enjoy the concert? doesn't seem like it...
hahah and SNSD girls were there too~ only spotted Sooyoung in the pic thou'--she's beside siwon :p
so, Super Junior : Siwon, Eunhyuk , SNSD : Yoona,Taeyeon,Yuri,Sooyoung , 2PM : Taecyeon, Junsu
no shinee boys. good *LOL*