Tuesday, May 5, 2009 // 12:48 AM


AHHHHH
>
i'm so tired ! i just get home from school, which we had this gymnastic *orwhatever* practical exam...



and ... DANG ! not so surprising, i got the damn under 68 score !!!
this is why i hate sport ! it's not that i don't like it , but i CAN'T!! understand fellas ? CAN'T !!!
so if i didn't graduate well in future , or having hardships in getting jobs... i'll blame this one first.


i mean , come on ! can't you tolerate me,sonsaengnim...? didn't you see my hardwork in doing those sports thingy ? at least i did my best ... not everyone is given the nature talent to do that...




i hope he is my teacher ...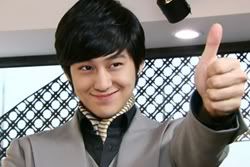 "very good,dear...you did your best...love you.."



ohmygod i'm so tired... gonna take a rest ...

seeya~